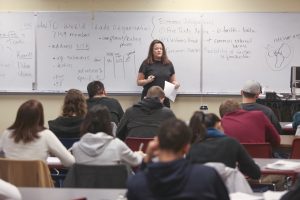 Whether you are setting out on your educational journey, a Running Start student looking to register for a course or two, or returning to school to explore a new career path, we have Highline classes to get you started.
If you'd like to become a Thunderbird, click here. If you have any questions, we're happy to help you through the process. Please reach out to us by phone, e-mail, or social media, or visit us in person at The Hub.
College Credit Courses, Upcoming for Fall Quarter
Fall Quarter registration has begun and we are excited to offer even more Highline College courses at our amazing site. If you are interested in experiencing the cozy, supportive environment of The Hub, please check out the Highline schedule and enroll in one (or more) of our classes. We look forward to meeting you!
Professional Development Courses
The UW Tacoma Professional Development Center offers working professionals skills-oriented, career-enhancing courses and certificate programs. The following courses are being offered in Federal Way, Fall 2022:
Lean Six Sigma White Belt (LN050) This course covers the concepts of Lean and Six Sigma for both manufacturing and service businesses. Participants are provided with an overview of Lean, Six Sigma and the DMAIC problem solving methodology. This overview includes statistical and non-statistical techniques used for continuous process improvement such as process definition, process flow diagrams, data collection techniques, measurement techniques, causes of process variation, pareto diagrams, histograms, cause and effect diagrams, control charts and process capability analysis. Participants will become familiar with the core concepts and critical success factors for achieving breakthrough results using Lean Six Sigma methods to develop a Lean Six Sigma implementation strategy tailored to their work culture and business situation. The interactive classroom emphasizes strategic thinking, flexibility, teamwork and communication skills.
Value Stream Mapping (LN102) Value Stream Mapping is a team-based process improvement technique used to evaluate and document current processes and design and generate a plan for a desired future state. This in-depth course is designed for Lean Six Sigma coaches, managers and leaders seeking a more structured approach to transforming and improving processes in a wide range of businesses and organizations. In this course you'll learn how to:

Develop a basic understanding of Lean Six Sigma principles and processes.
Identify and use standardized value stream mapping icons and metrics.
Construct a current state map.
Identify wasteful activities and other areas for improvement.
Build a future state map and develop an improvement plan.
Involve team members and leaders in implementation
Continuing Education Courses and Workshops
Highline College's Continuing Education commits to student success and community enhancement by providing accessible, diverse, and innovative quality education and support services to adult learners in pursuit of personal enrichment, professional training, career advancement and pathways to college.
The following courses are being offered in Federal Way: