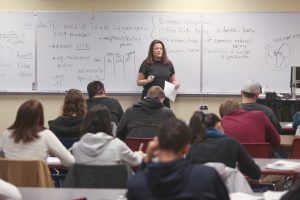 College courses at The Hub: Federal Way Higher Education Center begin January 2022!  Whether you are setting out on your educational journey, a Running Start student looking to register for a course or two, or returning to school to explore a new career path, we will have Highline classes to get you started.
If you'd like to become a Thunderbird, click here.  If you have any questions, we're happy to help you through the process. Please reach out to us by phone, e-mail, or social media, or visit us in person at The Hub.
College Credit Courses
Professional Development Courses
The UW Tacoma Professional Development Center offers working professionals skills-oriented, career-enhancing courses and certificate programs. The following courses are being offered in Federal Way starting January 2022:
Project Management (PM101)The Project Management Institute (PMI) is the world's leading professional organization to standardize and codify this knowledge through PMI's "A Guide to the Project Management Body of Knowledge" (PMBOK® Guide), as well as certifications such as the CAPM and PMP exams. Our curriculum is designed for working professionals, who are encouraged to bring their past and present experiences to classroom discussions. Seamlessly blending theory with practice, our instructors have years of experience applying the principles of project management in a diverse variety of situations.Project Management is our core, 40-hour course. It has been updated to reflect the new integrated systems approach to project management that PMI has shifted towards with PMBOK® 7 and the current PMP exam.